Major League Baseball moved the 2021 All-Star Game from Atlanta to Colorado because of Georgia's new voting law, and the MLB's move and the new law itself have been among the biggest—if not the biggest—topics in the United States over the past week. Former President Donald Trump has called for a boycott of the MLB (and other companies that have opposed Georgia's new voting law), and there's little doubt the television ratings will suffer for a sport that needs all the help it can get in that department. On the other side, former President Barack Obama voiced support for the MLB's move.
Unfortunately, what we have is another battle within this culture war—which has infiltrated just about everything in this country, including sports—that's gone on far too long. And it really doesn't help anyone except for the politicians gaining more support and more power by taking sides and rallying parties.
Major League Baseball's move doesn't help Atlanta, that's for sure. I don't like to look at things in terms of race, but Atlanta has a high black population and hosts many black-owned small businesses. A Georgia official says the MLB's relocation of the All-Star Game could cost the state's economy over $100 million. Meanwhile, the new state that will get the All-Star Game (Colorado) has a much higher white population than Georgia and the Atlanta area.
On top of that, while the comparisons are somewhat inexact because of the complexity of laws and the differences between states and regions, other states arguably have stricter voting laws than the voting law passed by Georgia. For example, New York requires an excuse for absentee voting (Georgia does not under the new law) and offers just nine days of early voting compared to Georgia's 17. Will Yankee Stadium and Citi Field be unable to host future All-Star Games? (Some have claimed Colorado has stricter voting laws than Georgia, but it is a difficult comparison because Colorado uses much more mail-in voting.)
Did Major League Baseball even think this through?
This is a league that found a way to criticize and alienate Mike Trout; implemented ridiculous "pace of play" measures that fans of the game despise; modified the baseballs without telling the players; and recently changed the baseballs again for this season but decided not to use the new baseballs during spring training when players should be able to get used to the new ball, instead waiting for the regular season. So no, they probably didn't think this latest decision through.
Major League Baseball has no idea what the heck they are doing when it comes to their own sport, so it's not surprising that they've struck out on this All-Star Game controversy.
Major League Baseball's decision is no more than misguided virtue signaling—and it's an insult and a waste of time to real issues of injustice the MLB can direct their efforts toward if they so choose.
Major League Baseball's statement about not holding the All-Star Game in Georgia gave no specifics about the issues with the new voting law. They mentioned things being "fair", but they really should point to exact issues with the law so that people—including those in Atlanta that were looking forward to hosting the Midsummer Classic—better understand their position. The MLB objects to the new law for the sake of objecting to it, with no specifics or articulation of their point of contention.
Let's dive briefly into Georgia's new voting law to separate fact from fiction (and many of the lies being told by the media and politicians).
The most common and basic argument I've heard is that people waiting in line to vote in elections are not allowed to have food and water brought to them. However, poll workers are still allowed to bring water to people voting in line. The new law just does not allow third parties to do so within a certain distance of the polling station, because they do not want Democrats or Republicans swaying people to vote a certain way with food. This does not infringe upon citizens' right to vote.
Another lie going around is that voting ends at 5:00 PM. That is just false. Voting runs until 7:00 PM.
Absentee ballots must be printed on special paper and can be processed (but not counted) two weeks before the election. These appear to be procedural things, and to be completely honest, I have no idea how this is even considered a potential problem that restricts voters.
Perhaps the main thing some critics of the law point to is the need for absentee voters to show identification. But if a voter does not have an ID such as a driver's license, they can get a voter identification card (for free) or provide the last four digits of their social security number. The majority of Americans support voter ID laws.
And finally, the new law adds drop boxes (which were only in use for the 2020 election because of the pandemic) and expands early voting (including on weekends, which helps, for example, people that may always be running around during the week with work and taking care of their kids). So overall, the law appears to make voting easier but more secure.
Does taking away the All-Star Game from Atlanta—on a year they were set to celebrate the life of the great Hank Aaron, who unfortunately passed away in January—for this feel right to you, Major League Baseball? Really?
The Atlanta Braves are not happy with the decision, putting out a statement: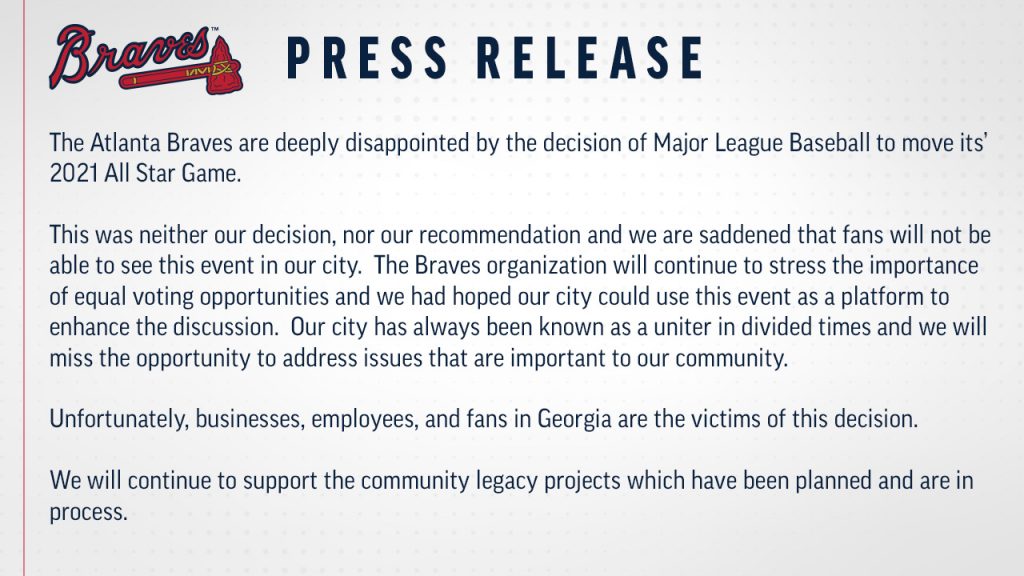 And while they are a largely partisan paper that has had to issue a correction about President Trump and Georgia voting, The Washington Post even isn't a fan of the MLB's decision, appropriately asking how the league can question the state of Georgia but do business with the likes of China and Cuba, and giving coverage of issues some Democrats in Georgia have with this situation.
It's disgraceful that Major League Baseball is discrediting Atlanta, the state of Georgia, and the United States of America overall, while doing a deal with Chinese Communist Party-backed Tencent.
As Florida Senator Marco Rubio asked in an open letter, will MLB Commissioner Manfred be resigning from his membership to the ultra-exclusive Augusta National Golf Club, which is located in Georgia?
All Major League Baseball did is virtue signal while hurting the city of Atlanta and its small businesses. The MLB isn't actually accomplishing anything of any significance with the decision. It was just another out-of-touch move made by "elites" that don't even know how to run their own game.
The least the MLB could do is point out the specifics of what makes the new Georgia law so unfair. Maybe I (and millions of others bewildered by the move) am just too stupid to get it.